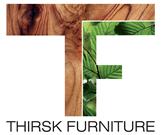 Thirsk Furniture is a large order furniture maker in North Yorkshire, in Thirsk. They make and supply furniture, tables and chairs, to hotels, restaurants, bars and anywhere that requires large orders of well made furniture.
The brief for this project was to use our aerial filming drone to capture some of the surrounding countryside, such as the White Horse on the hill which is iconic to the area, and the Thirsk Furniture facilities, then film the process inside from the renewable sourced wood arriving, being cut, shaped and sanded, through to the furniture making, varnishing, packing and shipping out. Being in the creative sector ourselves, and me personally holding an art degree, we were very excited about getting to see and film a hands on business like this.
They wanted to show their clients that Thirsk Furniture are involved in the entire process of making and supplying their products, nothing is outsourced – not even the deliveries. They also wanted to show the scale of their furniture making facilities, and a bit about what goes into making the furniture. They've had some clients for decades who've never seen where the furniture comes from or how it is made, so the video we produced is aimed at doing just that.