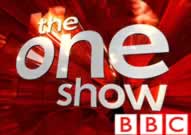 The One Show is a very popular TV magazine style chat show on BBC One that's aired five evenings a week across the UK. Within the show they sometimes feature an art segment that is put together by BBC Scotland, and in this instance we were working with them to capture drone aerial filming shots of The Angel of the North in Gateshead, near Newcastle Upon Tyne, for a piece on the 20th anniversary of its opening to the public.
Part of the show included a group shot of about a hundred and fifty local people that the producers at BBC Scotland had invited on Facebook. No one knew for sure how many people would show up, so it was impressive to see so many people come to celebrate the anniversary of their now famous local landmark.
It was a long day for all the crew involved. Starting at 7am, we first discussed what shots were needed throughout the day and what we could achieve before the invited guests showed up at 1pm. For most of the morning the BBC Scotland camera crew interviewed individuals involved, residents, a Councillor and a local steal worker who helped build the sculpture. In between these interviews we captured various GV shots of the Angel with our drones, panning, rising, circling etc and some close up details.
Being lucky with the weather and blessed with some lovely local people coming to join in, the day went very well.
You can watch a low res version of the video here on the BBC Website