Based in Yorkshire, is always good to get to work along its beautiful coastline, which we have done a lot over the last ten years.
This time we were working together with another York-based video company (Blow Your Trumpet Films) to film a short story for Whitby Museum at various locations along the coast and clifftops.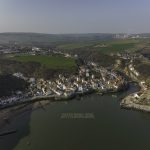 One of the shots included coming down into the harbour of Staithes, pictured here, and flying a drone along Staithes Beck, under a low bridge, to some stepping stones where a character from the story used to go fishing in the 1950s.

The day also included clifftop scenes and using the drone to simulate a treacherous climb down to a rocky outcrop and getting stuck there, awaiting rescue. At the same time we were getting shots of an actor who was explaining the incident that happened in real life many years ago.