Sky Filming visits many construction sites each month to gather photographs and video clips for progress reports.
The types of construction sites we visit vary greatly, from factories to mining, but we are heavily involved in using our drones for monitoring the progress of modern power station builds.
Waste Fueled Power Plants
Waste-to-energy plants are increasing in number in the UK, and we are very excited to be involved in the process of creating these green energy projects.
One such project is a large site near to York being built by Vinci Construction, a large pan-European construction company, which we have been involved with right from the start.
Our Drone Photography Usage
We visit the site using our drones to photograph the site from many different heights and angles, then walk around the site on foot to capture images with a regular DSLR camera.
Our captured drone and ground images are then used by Vinci and their clients to monitor the build progress month by month, and to plan various phases of the project using our overhead images.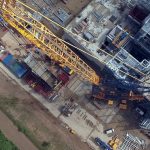 Edited Videos
In addition to our construction site progress images, we have also created fully edited videos of the site halfway through the build, and of significant events such as the installation of a very large boiler:
allerton-boiler-installation-video-v3-1080p-28-may-2016 from VINCI UK on Vimeo.