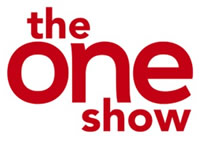 Earlier this month we had another aerial filming job with BBC's The One Show art segment, this time filming the creation of Land Art with Yorkshire artist James Brunt and his team at the splendid Wentworth Woodhouse near Rotherham in South Yorkshire.
In case you don't know, Land Art is designs that are made outside on the land, at a beach or in a forest, and often, but not always, created to be seen from above. In this case the art was created to be seen during the Tour de Yorkshire cycle race from the TV helicopter as the cyclists pass by this splendid location.
The One Show arts segment itself, the BBC piece were were working on with our drones, was focused on the artist himself, this work and the process it takes to create it and similar works he's created all over the countryside. He often works with rocks, stones and pebbles, as well as sticks and leaves, that he finds in the area around where he creates his art. In this case he had a whole team of people using special paint to spray the designs, one colour at a time, onto the grass. The paint is  not permanent and washes away with the rain, which added an extra complication for this project as they needed it to stay in place at least until the race was over.
The other interesting aspect for us is that they also had their own smaller drone that they use for checking their work as they go, which itself was part of the story to be shown on the BBC. So we were filing them at work, their art as it grew and their drone filming their art!
It wasn't looking good as the day began, but the sun came out and stayed out till dark thankfully. When we arrived this was to be the day they finished work on the design, which they'd been working on and retouching for many weeks. On this final day they worked non-stop to get it finished, right up until sunset. It was well worth it though, it looked amazing! Check out James Brunt's website for more amazing art: https://www.jamesbruntartist.co.uk/