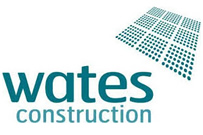 Sky Filming used a drone to photograph the construction progress of a sweet factory near Castleford in West Yorkshire.
For us, these type of projects, using our drones on large construction sites, are among the most interesting tasks we carry out. It means we get to see inside places and see people working with machinery that others outside the industry never get to see.
In this case Wates Construction were building a factory for the German confectionery company Haribo, and we were there with our drones to capture photographs and video clips of the build progress.
It's always good meeting the engineers, architects and project managers on these large scale building projects. There is so much amazing technology being used that people outside the industry have no idea about. Not just our drones, but also robotic bulldozers with GPS capabilities, super high tech surveying systems using lasers and LIDAR as well as automated concrete pumping machines and a whole host of other mind-blowing inventions
As well as getting to look inside with our drones, one of the best things about this work is being there at the start and seeing the finished product a couple of years later, and the progress along the way.